GoMoG'S GOLDENFROG & SERVICING LIST October 27, 2015

by Lorne Goldman & Jean-Frederic Frot
with assistance and encouragement from Richard Palmer
I began this list years ago. It is intended as fully comprehensive and interactive check list to help you and/or your mechanic keep your Morgan running throughout the year trouble-free. It is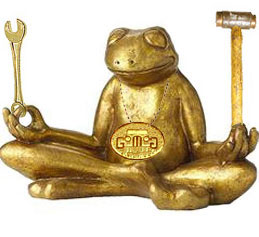 intended as a 10,000 mile servicing, similiar to that required by small private aircraft but will reap benefits whenever or whatever part of the list is done. Any contribution you feel is missing will be very welcome and merit a credit. Other ways of doing these jobs are also more than welcome. Let us reverse the marque's sad current reputation. It has been created as much from a lack of owner effort/knowledge as new build quality and design/production errors.
Bits of the list have leaked out and we are pleased at the interest and chuffed at the comments. I shall continue to update the list so I recommend you download just before you start in so you have the latest list. I will indicate the date of the latest updated above.

I remind you of the safety aspect. And, while working around the car, you should also inspect the condition of the chassis and bodywork for damage or corrosion. I work with a set of spanners and screw drivers at hand to test bolts and screws as I go.
No list is exhaustive, but long experience shows this one has the best chance of keeping you more trouble free than any other. If you do not choose to do it every 2 years or 10,000 miles (whichever comes first) get a price from a professional to do it. It should take a capable mechanic two days to complete assuming he/she does not run into problems. Problems are better to discover when the car is on a lift than during an outing or your annual holiday). I suggest you print these pages and check off the task as they are done. If you have a question that has an unclear or missing answer, send it on to me and I will do my best to shed light.