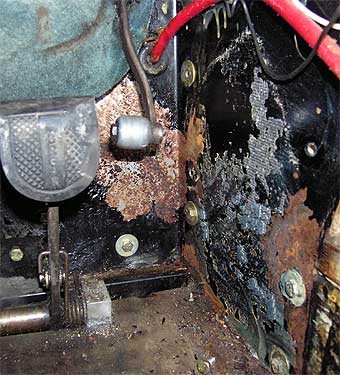 RESTORING A MORGAN
by Lorne Goldman
Morgans are certainly the best subjects for a wise restoration. The cars are simply made. Parts are normally readily available or repairable. The residual values, especially with fine examples of older cars, is very high and the price for the new cars is ever higher. A fully restored Morgan is better than new.
Yet for all this, restoration of Morgans (or any classic car) has garnered a scary reputation for astronomical costs and/or bankrupt projects. This need NOT to be! Follow the rules here, understand the process, choose your restorer wisely and the experience can bring joy at all stages. There is a deep satisfaction in bringing a car back to life and glory.
For the sake of a subject for this article, I am using a 1990 Plus 8, sourced and restored in the UK. The lessons are universal though details and services available vary from country to country, from car to car, from component to component. This article is not meant to be definitive in any way. It is made to give an enthusaist a general idea of what is entailed and how to go about it.
---
---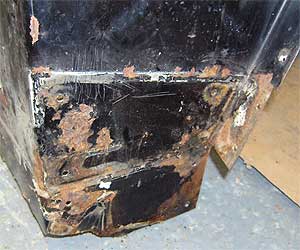 There is often no choice here as one is simply restoring one's beloved 4-wheel companion. That being said, it is wise to examine your car objectively as possible, using the criteria one can find in the guides on buying a Morgan. (Guide 1 and Guide 2) Very careful attention should be paid to the wings, the chassis and the wood.
The car should be examined by a Morgan professional..preferably the restorers you are considering. Extensive photos should be taken..
Choosing your restorer is the single most important thing you do in any restoration. Do not embark on a restoration without the fullest investigation of your restorer options. It MUST be understood that there is NO relationship (I found on two continents!) between the expertise, reputation and the quality of a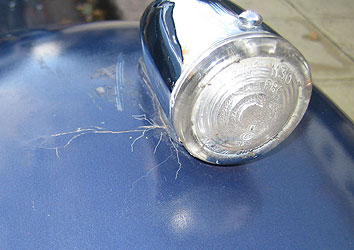 restorer and the cost. For example, quotations varied by 550% for this job and range of prices had nothing to do with the excellence (or lack thereof) of the work performed.
Begin with a preliminary "long list" of possible restorers gleaned from other owners. Keep notes on each suggestion. Examine the work of each candidate either in person or through an image portfolio and contact each for references.
The restorer should possess certain qualities and fulfill specific criteria.
A. He should be very experienced with Morgans. This saves worlds of time and error.
B. Unless he carries has a workshop within minutes of you, he must be internet and digital image enabled. There is no problem in carrying out a restoration any distance from you..even on another continent as we did, if you keep in constant digital contact. You are far better off (transports costs included) finding the right restorer 5,000 miles away than the wrong one next door.
C. He should offer a detailed written analysis of your car and a written game plan for its restoration including a time line of performance at each stage. Options can be discussed and explained at this point. Each task has different ways of doing it and you should understand the implications and costs of each. The ability to communicate is paramount to the success of the job.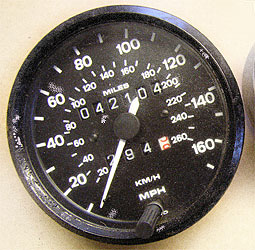 D. He should be prepared to work at a fixed price for the project, reflected in a detailed written contract. Should there be unknowns (quite common), the potential of these should be discussed and detailed as far as possible and a fixed price for these eventualities indicated. For other items, an hourly price should be fixed with parts costs separated. Digital images should be send regularly, preferably daily and/or as each task is begun and stage completed.
E. A completion date (extended by the time of any "extras" you choose to order, unknowns discovered) should be set. On the one hand you do not wish to have the job quality prejudiced by speed, on the other hand a car in pieces is less sellable than the wreck you started with.
F. A payment schedule, related to completion of certain stages (or the whole job) should be specified at the outset and subject to a final viewing of the finished product. Frankly, though I feel that financial protection for the restorer is justified when asked, the law in every country does offers ample protection for craftsman.
N.B After exhausting our contacts and much running about, we chose Tudor Motor Body Repairs Ltd. as our restorer. We are thrilled we did so.

Tudor entered the coach-building industry in 1870 and the present owner, Kevin Vernon, took over the company from his father (who can still be found lending his expertise many days!). Kevin is himself an avid Morgan enthusiast/owner and Morgans, from trikes to new fare, can be found in every corner of the extensive shop. The facilities are large, clean and airy and the equipment state of the art. We were most impressed. They are situated in Market Drayton in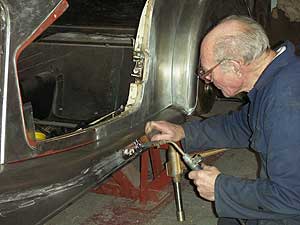 Shropshire, a perfect locale for a restoration, close enough to anywhere in England for pick up and delivery and far enough away from the "high rent districts" that you are reassured that big mortgage or rent is not going to take a hefty part of your wallet that would otherwise go into your car.
We were also very impressed by the examples of Tudor work we saw and the pleased testimonials from customers we spoke to. Vernon is thorough and passionate about his trade. His insurance repairs are as exemplary as the restorations we saw. As for the restorations, the many Concours prizes at every level of competition, both local and international, tell that tale.
He is direct and open from the first and throughout every step of the project. His reports allow even an auto-loving amateur understand where the effort is at at every stage and he presents all options on an ongoing basis clearly and factually. You will look forward to his many emails like a kid at Christmas.
Most importantly, Tudor marries expertise with candor and integrity. There is no sales pitch and these are are no salesmen. They are craftsman. The interests of their clients come first. I have yet to hear of any Tudor "experience" at any level of work complain of cost.
1. Restorers that have not been recommended by other owners.
2. Restorers who quote "cost plus" and no limits.
3. Restorers who tell you of the astronomical sums someone else paid for their restoration.
4. Restorers who tell you there is "no way to predict what we will find". If that is the case, they don't know Morgans very well and/or they wish no restrictions on what they can charge you.
The greater the extent of the restoration the greater the canvas you have on which to create. The more you save from the old car, the more your choices are pre-defined. For example, radically changing the car's color in a simple re-spray is not always wise. A full restoration opens the door to any color choice but, if the interior is retained, then this too will restrict choices in this area.
Define what you want from the project. Are you looking for a Morgan modified to suit you OR a Morgan UNmodified but taken to a much higher level of finish than the Factory could manage or, lastly, simply a Morgan returned to same state of finish and mechanics that it had when it left the Factory. As can be seen, a restoration can result in a car of a far higher quality than when new.
Additionally, what do you wish to create as to how the car is perceived and what route will you take to get there. As with all things Morgan, it is the journey that is important..not whether you get there.
As I already attempted in a previous project to create an ultimately performant Morgan (click Phoenix), we wished to try a different direction. With this car, we wanted to explore leaving a Morgan unchanged but taking it to a much higher level of finish than stock. We wanted to make the car as subtle and sleek as possible. (see Paint)