EXPERTS PANEL
"Is it known by the experts who is the person with the longest ownership of a newly bought Morgan-Fourwheeler (bought by him/herself, and not a "family-car")?
Frank Friedli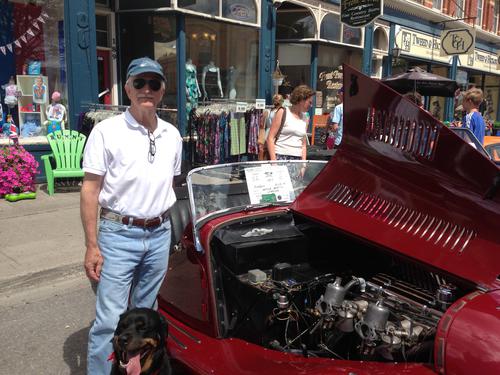 UPDATE 2019: We have discovered the longest ownership of all! That honor belongs to a Canadian, Arthur Beatty of Uxbridge, ONTARIO. This year, (2019) will be his 60th year of ownership of his 1957 Plus 4, Chassis Number

3684. He

still drives it daily when in season and regularly does lapping days at Mosport.



I am fairly confident that some of our early new car customers from the 70's and early 80's still have their cars.
Bill
Hi Lorne
Re the longest owner of a Morgan. As far as four-wheelers are concerned the closest I can get is 39 years, and even then the family are not absolutely certain if the owner changed it back just before the war. The longest undisputed owner of a Morgan was Gerald Carr who purchased a F2 in 1937 when he was left some money on the death of his grandmother. He died in about 1995/96 (Not absolutely certain) which of course means that he owned the same car almost 60 years. On his death he left the car to the Morgan Three-wheeler Club who then passed the car to a dedicated member.
All the best,
Ken
That's a question which is hard to answer, as only a small percentage of the owners belongs to a club. In Sweden there are several long time owners of flat rad +4s, who still stick to their cars. If the question were extended to three-wheelers, the "competition" would likely be between the late Gerald Carr and the late Derek Evans, who both owned their trikes for 60+ years.
Hermen Pol
Hi Lorne,
I believe the longest owner of a Morgan (if you can include a father-son team) would be Keith Ribinson of the Morgan Register. Keith's father bought the car, a Series I four seater in 1938!
Melvyn
Dear Frank,
I would say Dixon Smith of the English Club or Ken Hill also of that club. There are a slew of owners that have had Morgans in excess of 20 to 25 years. Post that question on the internet for reply and
we will all be surprised at the results.
John H. Sheally II
I have had my car for 35 years and I know that there are others who have had their cars longer.
Regards,
Greg Solow
Hi Lorne,
I do not know about series I 4/4s as not many came to the States originally.
Andy Hardin, Los Gatos California bought his Plus 4 DHC (P2143) in May 1951. It was the first Plus 4 DHC in the States. More "recently" Don McLaughlin, Louisville KY bought his SNOBMOG new in November 1955.
Gerry
Received GoMoG May 5, 2001
Hello,
One of the questions asked of the Experts Panel was if you could identify the person with the longest ownership of a newly bought Morgan Fourwheeler. I found it interesting to find my fathers name as one of the older owners and just wanted to give you a little more information on him and the car.
My father, Hugh Donald McLaughlin ordered this car sight unseen from a Morgan dealer in Pontiac Michigan in November of 1955. I can quite clearly remember the day that he and I picked up the car and brought it home. He traded a MG TD for the Morgan.
The car is still registered in my dads name and he is still living. The car has not been driven since 1965. It is currently undergoing a slow restoration, and we hope to have it on the road again by the fall of this year. This is a rare model 4 seat DHC, chassis # 3372, TR2 engine # TS6060ME, gear box Moss #1034. All parts are original. We are fortunate to have two of these cars in the Louisville area. Mr. Ed Hessil also owns one of these classic cars. His was completely restored about 3 years ago and it is flawless.
Don McLaughlin
1737 Harvard Dr.
Louisville, Kentucky 40205