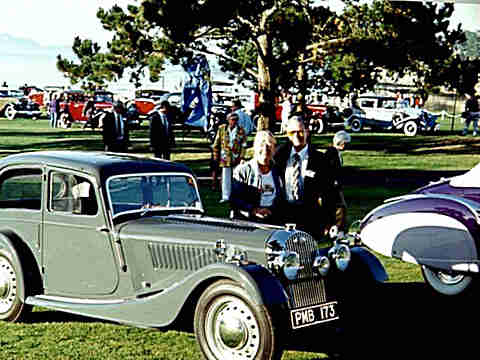 Gerry Willburn
Gerry has been involved with Motor Sports for over forty years. An electrical engineer by profession, Gerry was a teen-age Hot Rodder that never grew up. Gerry went on his first date with his wife Barbara in a 1947 Chrysler Town and Country convertible (lots of wood). They went on their honeymoon in a supercharged MG.

The couple's saga with Morgans goes back to 1959 when the Willburns traded in the honeymooned MG and bought a new Plus 4 Drophead Coupe. The car seems to have magically spawned for there has been at least one Mog in the family ever since. As a wayward youth Gerry was also a National motorcycle racing champion and the Morgan was pressed into service towing the Ducati to the races. The family currently campaigns a Peerless roadster (Birdcage Morgan) in vintage races, though the driving duties has been passed on to son John.

Throughout the years, Barbara, Gerry and their two sons, John and Derek (both Morgan enthusiasts) have owned over twenty Morgans. The Willburns have always done all of their own maintenance and restoration work (except for panel-beating) on all of their cars. This has included several complete restorations to standards that have won recognition and awards at major concours, including the renowned Pebble Beach Concours d'Elegance. Current restoration projects are Barbara's four seater Drophead (after thirty years and a couple of hundred thousand miles) and a unique four seater roadster with a small boot on the rear for a friend.

Willburn acknowledges that he may be more thoroughly conversant with the Plus 4s than the 4/4s and Plus 8s though he currently owns (among other things) both a Series I 4/4 DHC and a 1973 Plus 8. Gerry is a devoted hobbyist historian and can draw on a library of Morgan historical data that has been assembled and organized over the last forty years.

During his many trips to England, Gerry Willburn has had the pleasure of meeting many of the stalwarts of the British Morgan community and can count many among his friends. We on the Morgan Mail List have often waited and benefited from Gerry's "last" word on a difficult historical point. His good sense and gentle manner will anchor the panel.