1934 MX4
Looking for Present Owner
Chassis Number Unknown
UK Registered as AXN 13
1000cc Matchless engine. Used by
searcher's father in the late 50's in
Birmingham, UK.
1934 MX4
Looking for Present Owners
Matchless powered v-twin Sports Two Seater
Had UK registration KY7896
Saltdean - Brighton - Steyning areas of the UK
Sold twenty year ago via Bob Angell of Ewloe, Clwyd, N. Wales, UK (Angell Fabrications)
Interesting photos for present owner
1934 SUPER SPORTS
Looking for Present Owners
Had Registration KPE 427
Last seen with fire engine red paint and red interior .
Distinguishing marks were two large custom made
quick release caps for the petrol tank and the radiator.
Other distinguishing marks were Morgan 4
wheeler side lights mounted on the mudguards.
Sold in Portsmouth, Hampshire.
1935 MX4
Looking for Previous Owners
Chassis Number D 1325
UK registration HG 3220
1936 MX2 SS
Chassis Number 1642
Registered RV 9178 in Portsmouth through Burnets and Sons.
Want information about owners up through Ian Bland of Coventry who
may have sold the car through Octagon Sports Cars, London around 1977.
1936 MX4 SS
Looking for Previous Owners
Formerly located in Maryland/DC area.
Past owners were Bill Mulroy & Joe Cady
Vehicle now in the and present owner seeks
past USA history, photos etc
1939 F Super
Looking for Present Owners
Reg. number EKR 761
SERIES I
Looking for Present Owner
4/4 last last seen in 1965.
I have no chassis number. First registered in 1940 in Birmingham as
FOL 605.
Original colour unknown
but possibly dark blue.
Later fitted with twin SUs and 4 branch exhaust
A323
Looking for Previous Owners
prior to early 1970s
1957 4/4 series II
(orginally red)
A339


Looking for Previous Owners
prior to 1976
1957 4/4 series II
(originally Ming Blue with a Black Interior)
343
Looking for Previous Owners
Engine No.MA359.
Purchased in England in 1978 from Lenhams.
D517
Looking for Specific Previous Owner
by the name of David Peel of the U.K.
Trike
720


Looking for Previous Owners
Sent to Colmore's of Birmingham on December 19, 1938
Colour green. Repainted in the 1950's? Light Maroon.
British Registration EOM 498.
Known Previous Owners include
Henry Luxford Gwilym, Dean Fraser Hood, James McArthur Gatt,
Howard Michael Jones, Arthur Hughes,
William Allan Day is the last owner recorded in 1971 in Kent.
Look forward to any help with parts.
B857


Looking for Previous Owners
Looking for information on owners between first owner
Robert Grahame Fawkes of Maldon and Mike Robson, who sold this
car to buy XOV 555. UK registration172AOO. This car was fitted with a
Lotus engine when sold to Mike Duncan Ltd. Was white when new and
dark green in middle to late 1970's. 1963 4/4 Series IV two-seater
B860


Looking for Previous Owners
UK registration 729 KNP.
Original colour Maroon, late sixties/early seventies orange.
Engine pre x-flow with Double Weber and Derrington manifolds.
1963 4/4 Series V
B887
Looking for Previous Owners
1965 4/4 Series V
British plate AFK 766
Sold through Fergus Motors of NYC Thought to be originally BRG
Bought in Memphis, Tenn. in 1975. Wrecked once, sold in two tone
brown/with black leather interior, Ford engine number 271615, LHD
B1030
Looking for Present Owner
1964 4/4 2-seater
originally a 1500cc model but when sold in 1980 it had
a 1600cc ford X-flow with twin choke Webbers
B1124


Looking for Previous Owners
1965 4/4 2-seater
Originally sold by Fergus Motors in New York
Light yellow with black wings
1150
Looking for Previous Owners
1947 4/4 Series I, blue with yellow wheels
Fitted with BMC B Series engine and gearbox
British Reg No GR9 052 , UK car
1964 4/4 Series V GT Competition
Looking for Present Owner
owned 25 years ago (car was green then)
registration no. 4711 KR
United Kingdom
1967 4/4 Series V


Looking for Present Owner
Chassis number unknown.
Originally white, not ivory, with leather, wire wheels,
wood steering wheel. 1500 cc engine with remote shifter.
Was sold to Arthur A. Dulaney,III; thought to be last in Dayton,
Ohio where trail ends.
B1295


Looking for Previous Owners
1966 Competition 4/4 Series V
originally green
B1301


Looking for Previous Owners
1966 4/4 originally yellow, 1500cc Ford
B1659
Looking for the Previous Owners
1968 Morgan 4/4, RHD
Had UK registration JBM933F
Original color blue , now brown
Last owner, area Flitwick, Bedford
2262
Looking for Present Owner
1951 +4
red with black interior, Holly dual carb manifold. Originally delivered in
Germany owned in California from 1960 to 1962.
P2419


Looking for Previous Owners
1953 +4 Flat Rad DHC
2713


Looking for Previous Owners
Drophead Coupe April 1953
Now in France, came from the USA.
P3008
Looking for Previous Owners
Four seater, interim cowl, Cavalier imported to U.S., originally red with beige trim, spent time in D.C. area
P3010


Looking for Previous Owners
Two seater, interim cowl, bean can headlights, Cavalier imported to U.S., originally Ming Blue
1953 Plus 4


Looking for Present Owners
In the late 70's I bought a 1953 Plus 4, in Lincoln, England
I rebuilt the car whilst at University in London
In 1981, when the project was nearing completion the
car was written off in a very bad accident
After a year in Australia, I returned to UK and sold the wreck
I do not know the chassis number, but the UK registration was NYF 452
P3232
Looking for Present Owner
1955 Plus 4 Four-seater
sold in 1984-86 to someone in Bartlesville, Oklahoma
then cream with brown fender
3352
Looking for Previous Owners
1954-55 4 str Fergus car
originally red Likely RHD--converted to LHD
Probable competion history, evidence of front end shunts.
SU fuel pump retrofitted. Evidence of underhood fire.
Bought from a Mr Penseval of Cumberland R.I. in 1981. Any previous owner/info welcome.
P3????
A SPECIAL REQUEST
Looking for the present owners of
a 1955ish green Plus 4
restored in the Warwick area many years ago and bearing numberplate
LUX 77
3763
Looking for Specific Previous Owner
by the name of Andre Pirone of the U.S.
1958 Plus 4, Eng. TS18567, Fergus imported to U.S., left Factory red then painted "John Deere" green
3855
Looking for Previous Owners
1957 DHC
4034
Looking for Previous Owners
1959 +4 4-seater, sold new through Fergus
in Miami, Florida. Originally red.
4081
Looking for Pre-1992 Owners
1959 Plus 4 roaster. Car originally sold to Stern's Garage in Sidney, B.C.
4137
Looking for previous owners
1959 Plus
Delivered to Fergus of New York
4442
Looking for Previous Owners
from 1960 to 1978
1960 Plus 4 roadster
Originally sold by Worldwide Imports in LA as a 1961
red with black Ambla interior, steel wheels, and a tonneau cover.
Registered by Constance Star in Las Vegas in 1978
4574
Looking for current owners
1960 Plus 4
4586
Looking for Pre-1988 owners
1960 Plus 4 roadster Four Seaster, car originally sold through Fergus (originally blue)
4662


Looking for Pre-1992 Owners
1961 Plus 4 roadster
4769
Looking for First Owner
1961 Plus 4 1961
Probably driven in California and, since 1996 in Holland.
4789
Looking for Previous Owners
1961 +4 DHC, sold new through Hunt's in
Birmingham to C. H. Newman, Jr. U.S. specifications, originally black.
4874
Looking for Pre-1975 Owners
1962 Plus 4 Four Seater
4955


Looking for Pre-1978 owners
1961 Plus 5
RHD but originally sent to Walter Magen & Co. in Germany,
possibly to an officer in the British Armed Forces
Left factory 27/11/61 but registered in UK 27/12/62.
UK Reg. No. 607 EYT
Shipped to USA Feb. 1978 and history known since.
Original colour Green but Blue by March 1974.
B4940
Looking for First Owner
1981 4/4 1600 4-seater
The car was originally light orange dispatched June 1981 to Otley
Motors in Yorkshire. In July 1988 a new brown leather hood was
ordered from the Morgan Motor Company and despatched to
"The Surgery", Trimpley, Ellesmere in Shropshire
and
billed to Dr. R. Queensborough in Redbridge House
in Ellesmere. In 1989 the car was in at the Morgan Motor
Company for some
woodwork and retrim of rockers.
4945


Looking for Previous Owners
Engine Nr. 82267, LHD,
Original Colour red, black leather
Left factory 21/09/61 consigned to
Sterne's Garage, Sidney, British Columbia,
Plus 4 - 2 Seater DHC
4958
Looking for Present Owner
1962 SS high cowl, Fergus imported to U.S., originally dark blue
5010
Looking for Pre-1989 Owner
1962 Black Plus 4 Four Seater purchased in Reno, Nevada.
5139
Looking for Previous Owners
originally shipped to Lew Spencer in California in June of 1962
Present owner wishes to fill in the 1962 to 1970 period
1962 Plus 4, green with a black interior
5092


Looking for Pre-1980 Owners
Aluminum body, Plus 8 wings, modified dash
Dispatched as trials car with British License Plate no 138GAB,
1962 Plus 4, green with a black leather interior
5220
. Looking for Previous owners
1962 Morgan Plus 4 SS.
Shipped in October 1962 to Fergus Motors in New York.
Not licenced until 1964.
5402


Looking for previous owners
Morgan Drophead Coupe
Shipped on May 29,1963 to Fergus Motors, New York
5589


Looking for Previous Owners
originally shipped to Fergus in New York owned in early
'70s by Larry Lelong in Palos Verdos, California and then
Leone Lawrence in Florida before being shipped to the UK
1964 Plus 4, yellow body with black wings
5632


Looking for Present Owner
1965 Plus 4
previously owned by Courtland & Janis Mumford of Portland, Oregon
Beautiful Black
5636


Looking for Previous Owners
1964, +4
Blue DHC
6055


Looking for Previous Owners
1966 Plus 4, Fergus imported to U.S., originally red with black leather trim & wire wheels
6095


Looking for Previous Owners
1966 Plus 4 - 4 seater
6198


Looking for Previous Owners
1966 Plus 4
2 seater, left hand drive, silver metallic color (today)
Imported to Denmark in 1996/97 from U.S. or Canada
R7425
Looking for Later Owners
Original Owner of this US Spec Plus 8

Sold to a Mr Bronk in Florida in 1976.
Golden Yellow with black interior
R7474
Looking for Later Owners
Looking for my first Morgan Plus 8
Registered as a 1971 but should be 1972
R8077
Looking for Previous Owners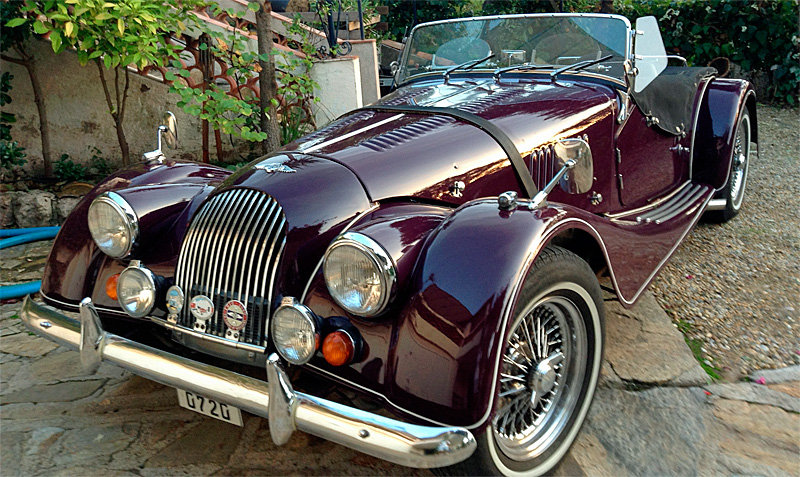 A 1976, present owner has the car since 3/1990
and it is now registered in Germany. LHD Purchased in Hamburg,
Germany from the previous owner who restored the car
R8366
Looking for Previous Owners
1978 Plus 8
Car was purchased in Denmark
The car has the name Allsopp + 8 written on the plate over the battery,
and had the plate registration number CPT IS
R8477
Looking for Previous Owners
1979 Plus 8
R9804
Looking for the Present Owner
Corsa Red 1987 Plus 8
R9831
Looking for the Present Owner
1987 Plus 8
Car believed to be in the Netherlands