Note to reader.

Despite perceptions, I have had only

three

Morgans.

I HAVE worked on scores though, alongside most of the legends, in workshops, roadside dust and in paddocks & pits on four continents. And I have tried to help on thousands who ask. HOWEVER, I consider myself an happy amateur with a weird memory for trivia.



Our

first

Morgan was a 2-tone 1984 Plus 8 I bought used and restored. It was fit with a 3.5L which I upgraded into a high revving "screamer". We adored that car. But it was destroyed in flames in 2002.

The

second

was officially the same car as the first for the Canadian governments concerned. Fortunate, as Canada does not allow current Morgans to be imported as they cannot pass Canadian safety tests.

(But YES they assisted me wherever they could!)

. I had earlier purchased a 4.6 LR block, from Morgan and shipped to RPI for upgrading under my instructions and the design ideas of myself, Mark Adams and John Eales. We kept the original 1984 Morgan fueling but used larger L-Jetronic components to match the larger capacity. (The higher performance Omega pistons I had installed increased the capacity to 4.8L). The staged heads (my work) and bespoke /gaskets lent me a 9.5 compression. We had shot for torque and accelleration and exceeded our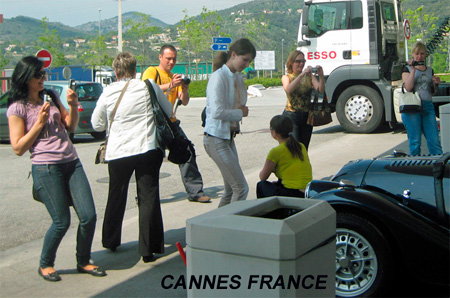 expectations. I worked the car on soon after its arrival from the Factory, in Canada, with Bill Beck, the Morgan Service Director before Mark Baldwin and subsequently Development Director until 2002. The Factory sent him over to lend a vital hand. The car has many of proposed Morgan ideas that were only used after its construction or deemed too expensive for stock fare. And with the help of the Works and the dealership network, we cherry-picked parts from every Plus 8 era with something worth having. Morgans are like wine..there are good years and other years. This is only Morgan I have left since 2013. Absolutely bullet-proof for reliability and the best performing Morgan of any type I have ever driven.

The

third

Plus 8 was a 1990, a RHD, that was purchased in 2004 and plated as E9 Mog. It is a single tone blue, as it was originally. Our hope at the time was to expand our mogging arena to Europe as well. During our tenure, it resided in Hartebury, nestled next to PM's AB16. In 2005, I decided to completely restore it with Kevin Vernon of Tudor Motors as it was nowhere near the quality of our other Plus 8. We refreshed it with an almost black sapphire blue with a subtle pearl effect. I decided to fight back against the fuel quality problems we encountered in backroad Europe. After speaking with LR & Coscast engineers, who referred me to UK military engineers, I decided on a lower compression (8.75) military 4.6 engine (the British military had the same fuel problem I encountered abroad). The result was a fast cammed 4.6 with much better breathing and more fueling. Later Morgan brakes were installed by Caparro, a later bespoke the suspension was installed by me with Mulberry & Rutherford parts, the last R380 2WD transmission ever made (according to John Eales who supplied it), a Worrall exhaust system with original Morgan branch manifolds were also added. As we hoped, the torque and power increased for more fun while the European fuel issues disappeared. We enjoyed the car immensely. Though not as electrifyingly performant as the others, it was an amazingly flexible babe able to casually take in any road in any weather. We managed more than 37 months mogging it all over Europe during 9 years. If anyone is interested in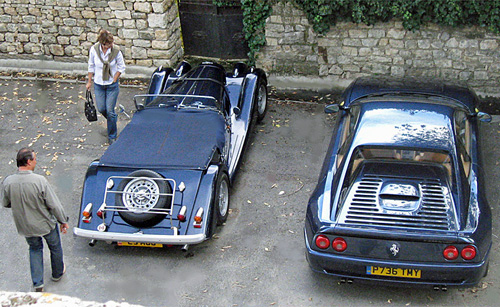 more details or rolling road specifics, I can oblige. It became absolutely bullet-proof for reliability. The two picures here are of us filling up with petrol in Cannes and and a couple from the Ferrari racing team drivers we encountered at a cutsy hotel with a fabulous

carte

near Ledenon.

They asked us to join them for dinner and it was a memorial night!



However, after almost a decade traveling Europe, we noticed that the legendary Morgan goodwill had declined in anglophone Europe. Then after being invited by Richard-Shepherd Barron,

(a dear friend)

to the Silverstone winners lounge for a Morgan Meet

we we

re asked to pitcrew

a

t, we discovered on exiting that the car had been key-scratched and plastered with scores of TalkMorgan stickers. We concluded that it was time to put that car up for sale...at any price. We had achieved the original goals and we apparently were pushing our luck. My wife and I pondered at the time and since concluded tha we luckily saw the beginnings of the Trump era years before Trump.

It was auctioned off by Matthew Parkin, the former Morgan director,

with whom I have had many disagreements and yet for whom I have MUCH respect.

:D To this date, we are told that there are still some who pan our cars on that forum.

Though each of these Plus 8s were/are very different, the less savvy get confused, one with the other, especially the latter two. There is an easy distinguishing fearture. The Phoenix has the first stainless steel wire wheels, a brilliant gift from the Morgan Factory.. It is a LHD and has no front registration plate. The UK Plus 8 sports metalized Morgan bolt on alloys and is RHD.