Page Two
ed herman's
Morgans at the Movies
---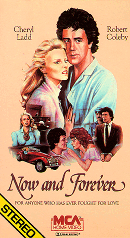 Now and Forever
1983 Cheryl Ladd
A loving, and seemingly perfect marriage is destroyed when the husband is wrongfully accused of rape. After he is sent to prison his wife begins taking drugs and drinking excessively.




---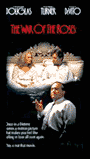 The War of theRoses
1984 starring Michael Douglas, Kathleen Turner and Danny Devito
A story of a divorce that goes poorly....as in from hell. Douglas, (the hubby) well beloved Morgan is flattened with by Turner (the wifey).

Addendum by Gerry Willburn
There were three Morgans used for the scenes in "War of the Roses." The "Pre-Restoration" car was (and is) owned by Jim Whelan. The writer of that film was Michael Leeson who previously owned the SNOBMOG 3375.

An interesting aside to that story...it would have made a better TV mini-series than a movie. They shortened it quite a bit to fit the movie length and lost the major thread of the plot (as well as most of the Morgan scenes). In the film, you never really know why the marriage went sour or why she hated the Morgan. In the story, it was when he decided to restore the Morgan and started spending more time in the garage with it than he did in the bedroom with her that things started to go wrong.

Barbara and our son, Derek prepared the three cars used in the film. Whelan's car was the "before" car, the "restored" car was purchased by the studio and sold after the picture was over and the car that was "crushed" was a rolling hulk rented from Bob Couch. It was modified by the prop department and was actually mounted on a dolly (the same one that was used to lift the front of the 4-seater in "Silent Movie") so that it could be lowered even more during the crush scene. After the film, it was restored by Bob and now lives somewhere in the East.

---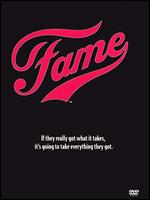 Fame
1982-1987 TV Series.
In the wake of the successful movie of the same name, a TV series was spawned baded on the stories of the students and faculty of the famous New York City High School for the Performing Arts. In one episode, the aging music professor, is taught to drive in a Morgan.



---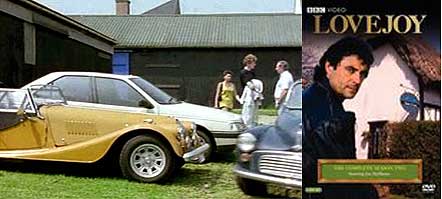 Lovejoy
TV series 1986-1994 Ian McShane, Dudley Sutton, Chris Jury and Phyllis Logan
Lovejoy is a loveable rogue and an antiques dealer with an amazing talent for spotting hidden treasures. When not looking for the odd collectible, Lovejoy spends most of his time using his con-artist skills to help out the less fortunate. His partners in crime are wealthy Lady Jane, his dim assistant Eric, and the genially intoxicated Tinker.



---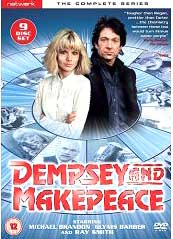 Dempsey & Makepeace
1985-1986 British Television Series. Starring Michael Brandon and Glynis Barber in the title roles
James Dempsey was a tough New York cop who got himself into a lot of trouble by killing his partner during a corruption investigation. With things too hot for him in New York, Dempsey was seconded to London's elite SI10, where he was assigned to work with Detective Sergeant Harriet Makepeace, under the supervision of Chief Superintendent Spikings. Dempsey found British police methods slow and infuriating, and his new colleagues considered him a violent maverick, entirely too attached to his .357 Magnum. The immediate antagonism between Dempsey and Makepeace was countered by a strong physical attraction, and while they fought continuously, they made a good, effective team. A Morgan Plus makes an appearance in the fourth episode series.




---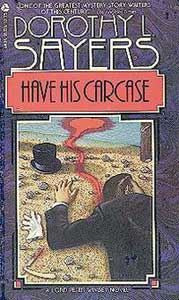 Have His Carcase
1987 Starring Harriet Walter, Edward Petherbridge, Richard Morant.
From the 1932 novel of the same name. Harriet Vane, author of crime and mystery novels, goes off on a hiking holiday. She finds a fresh corpse on a lonely beach, and although she is able to collect photos and evidence, the body is washed away before it can be recovered. The plot concerns the efforts of the local police, assisted by Harriet and Lord Peter Wimsey, to identify the dead man, recover his body, determine whether his death was suicide or murder, and if the latter, to unmask the killer. A 1933 Morgan Supersports Threewheeler makes an appearance.





---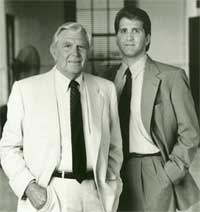 Matlock: The Billionaire
1987 Andy Griffith The action takes place in London and one of the main characters drives an Ivory Morgan roadster. He is on trial for murder. As Matlock has just taken his case, he MUST be "good guy" after all. Thanks to Doug Davee for this one




---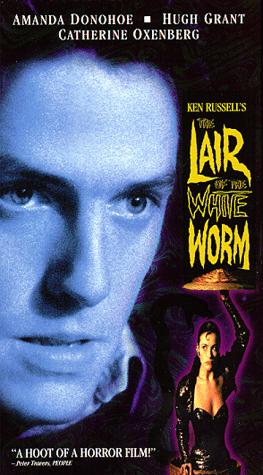 Lair of the White Worm
1988 starring Amanda Donohoe
In this sexy vampire romp, Lord James D'Ampton and friend Angus Flint visit D'Ampton's ancestral home. A alluring new neighbor, Lady Sylvia Marsh, has moved into the chateau next door, and seems to be at the heart of a major outbreak of vampirism in the area. Her Ladyship drives a E-Type and her hubby drives a Plus 8.





---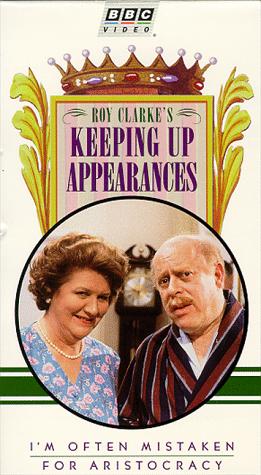 Keeping up Appearances
1990 to present British T.V. Series starring Patricia Routledge
Hyacinth Bucket (pronounced "bouquet") continually looks for opportunities to climb the social ladder, though she's wedged on a rung just below her sister Violet (whose house has a swimming pool, sauna, and room for a pony) and just above her working class sisters Daisy and Rose. Hyacinth's passion for flawless entertaining unnerves her neighbor Elizabeth, who is often invited to the Bucket home for coffee. Elizabeth's divorced brother Emmet, who also lives next door to the Buckets, tries to avoid Hyacinth because she breaks into song in his presence in the hope he'll cast her in one of his "little theater" musical productions.



---

My Girl
1991 Dan Aykroyd, Jamie Lee Curtis, Macaulay Culkin, Anna Chlumsky
When your Dad's an undertaker, your Mom's in heaven, and your Grandma's got a screw loose...it's good to have a friend who understands you. Even if he is a boy.





---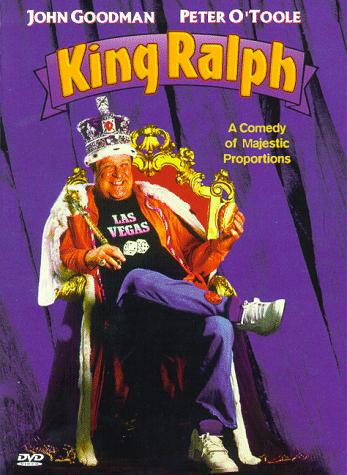 King Ralph
1991 starring John Goodman and Peter O'Toole
When an accident obliterates the British royal family and most of its branches, a desperate geneological search discovers the next king: Ralph, a sleazy American lounge singer. Can Ralph measure up to the job, even with the help of loyal aristocrat Willingham?






---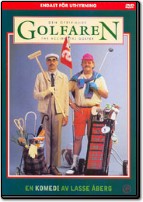 Den Ofrivillige Golfaren
1991 Starring Lasse Åberg, Jon Skolmen, Mats Bergman
n this Swedish comedy and satire, a gentle and shy man is fired from his job by an obnoxious yuppie. When that same yuppie challenges him to learn golf in a week's time, the beleaguered man seeks the help of a friend, who takes him to Scotland to learn the game in its spiritual homeland. Along the way, he not only picks up the basics but falls in love with the daughter of a Scottish golf pro. Meanwhile, his path crosses that of some of the snobbiest and most class-conscious individuals ever to have teed up for a round of golf. A Morgan Plus 8 makes an appearance on the way to the Golf course.



---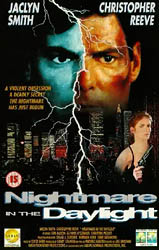 Nightmare in the Daylight
1992 starring Jaclyn Smith and Christopher Reeve.
A married Wisconsin teacher fears a Los Angeles lawyer who has mistaken her for his long-lost wife. In one of the shots is the father of de leading lady, Jaclyn Smith, cleaning a white Morgan with read leather
upolstery. Offered by Bart Schenk, Holland





---

Pole to Pole
1992 Michael Palin packs his bags in this TV series sequel to his round the world in 80 days adventure. This time his journey takes him from the North Pole to the South Pole, in as direct a route as possible, taking him through the eastern part of Africa.
He makes this intrepid trip in a Morgan 4/4. Gerry Willburn






---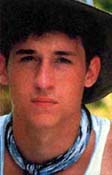 JFK: Reckless Youth
1993 starring Patrick Dempsey. A mini-series of the early Kennedy years. With family in England, the movie has Dempsey in a Morgan FlatRad.








---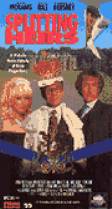 Splitting Heirs
(1993) starring Rick Moranis, John Cleese, Eric Idle and Barbara Hershey.
A member of the English upper class dies, leaving his estate and his business to an American, whom he thinks is his son who was lost as a baby and then found again. An Englishman who thinks he is an Indian comes to believe that he is actually the heir. He comes to hate the American who is his boss, his friend, and the man who has stolen the woman after whom he lusts. A yellow Plus 8 is "destroyed" by a bomb. Bjorn Schage





---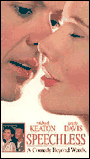 Speechless
1994 starring Michael Keaton
Speechwriters for opposing political candidates fall in love with each other on the campaign trail in this formulaic romantic comedy.
---
Wolf
1994 starring Jack Nicolson and Michelle Pfeiffer
A man driving alone at night on a New England Highway, finds a wolf laying down in the middle of the road. When he stops to find out what's happening, the wolf bites him and run away. A few days after this man begins to feel some strange changes on his body, until he converts into a weirwolf.






---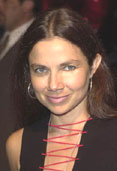 Another Woman
1994 starring Justine Bateman and (a surprise to me!) the car now owned by meself, the GoMoG Webmaster. After a brutal attack leaves Lisa Temple without her memory, her husband declares that she is another woman. She begins to find out just what that means when she begins to try to recover that lost memory.
---


Rosamunde Pilcher - Das Ende eines Sommers (End of Summer)
1994 Starring Iris Junik and Diego Wallraff. Directed by Hans-Jurgen Tugel.
A movie made in Germany/Austria, with a story in Scotland. The lawyer of one of the players drives a BRG Morgan +8 with red interior. The plot revolves around the heritage of a grandmother in a Scottish family. Bart Schenk


---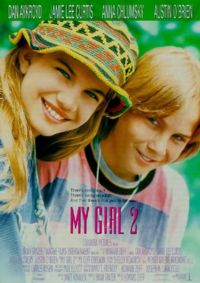 My Girl 2
1994 Starring Dan Aykroyd, Jamie Lee Curtis, Anna Chlumsky and Austin O'Brien
The plot involves the main character, Vada Sultenfuss, going to Los Angeles for the spring break to learn more about her deceased biological mother. Vada has spring break coming up, and an assignment: to do an essay on someone she admires and has never met. She decides she wants to do an assignment on her mother, but quickly realizes she knows very little about her. She manages to get her father (Aykroyd) to agree to let her go to LA to stay with her uncle and do some research on her mother. Once in LA, she finds herself under the protection of Nick (O'Brien), the son of Phil's girlfriend, who at first is very annoyed at losing his own spring break to escort a "hick girl" around town. However, he soon becomes more involved in the difficult search. A Morgan Plus 4 DHC makes an appearance.






---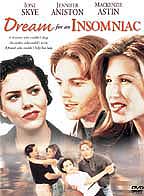 Dream for an Insomniac
1997 Starring Ione Skye, Jennifer Aniston and McKenzie Astin. Girl leads a
lonely life until she meets the boy of her dreams. The boy, however, has a
live-in girlfriend. There is a scene where a condom is demonstrated. This
demonstration is on the hood of a silver/blue (two tone) Morgan.




---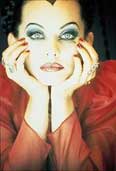 Preaching to the Perverted
1997 Starring Guinevere Turner. A minister on a moral crusade employs a young
computer whizzkid to infiltrate the London S?M scene. The whiz has to gather
evidence of physical "assaults" in order for the Minister to prosecute but our boy
unwittingly gets drawn in and falls for the grand Mistress. Blue Morgan Plus 8
appears about halfway through the film.


---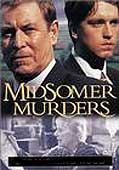 Midsommer Murders
1997 Starring John Nettles, Daniel Casey, Nick Farrell. Police detectivesare called to investigate the murder of a beautiful South American model. She is found with a necktie wrapped around her throat and a suspect's watch at the crime scene. Thanks to Bart Schenk of the Morgan Club of Holland for for finding this one.



---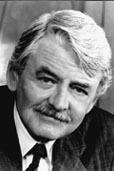 Beauty
1998 starring Janine Turner and Hal Holbrook
In a made-for televison, poor quality variation of the Beauty and the Beast plot an artist finds that she is unexpectedly drawn to a deformed and reclusive author whose portrait she must paint. The artist/Beast drives a MogNW Morgan 1969 Morgan +8 owned by Al Allison of North Vancouver. David McCrossan




---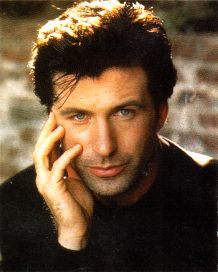 Thick as Thieves
1999 starring Alex Baldwin
A made for HBO effort where two master thieves go at odds with one another as one sets the other up for a crime. The first (Alec Baldwin), a suave pro who does his job and then hides in his own privacy, listening to old jazz records and caring for his ailing dog, Wally. The other (Michael Jai White) is a local gangster with a taste for the finer life, who decides to eliminate the competition. This ignites a war between the two men and their aides. An angry mob boss (David Byrd) and a female police officer (Rebecca De Mornay) try to sort the mess before things get too out of hand. Many thanks for this one to Dale Martin who now owns the Plus 8 driven in the movie.



---
Dangerfield TV Series: Tying the Knot
1999


The last episode of the drama series featured a Morgan 4/4. First aired 19 November 1999. GoMoG thanks

Brian Goree for this one! Keep them coming!
---
Linda McCartney
2000 starring Gary Bakewell.
Gary Bakewell is really trading in on his resemblance to Paul McCartney being as this is the second time that he has played the man. He also does a credible job at it. The title of this movie is a little deceiving as it doesn't really tell the story of Linda, but more about her marriage to Paul. The love story between them is, as always, inspiring and Elizabeth Mitchell does a good job as Linda. The movie shows Paul McCartney driving a green Morgan in the 1960's. The car is actually a 1955 Morgan Plus 4 owned by Fred Ernst of West Vancouver. Larry Sharp
---
The Right Temptation
2000 starring Keifer Sutherland, Rebecca de Mornay
A detective falls for the man she's supposed to be investigating - until he frames her for murder. Sutherland drives Mike Hattem's snappy white Morgan Plus 8 in the film.
---



Rated X
2000 starring Charlie Sheen and directed by Emilio Estevez
This is a movie biography of the Mitchell Brothers who opened up a successful San Francisco strip club. Sheen drives a red 8 interim cowled Plus 4. Many thanks to Chris Wnek for this contribution.

The Morgan used in this movie is the 1957 Plus 4 owned by Arthur Beatty. He has owned it since 1959 and it is an original car with the high cowl and grill. The movie was largely shot on his road in Uxbridge, Ontario, Canada. He reports it was great fun to chat with Emilio Estevez!





---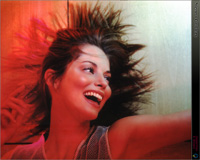 Take a Girl Like You
2000 Sienna Guillory joins Rupert Graves and Hugh Bonneville to take her first leading role in Andrew Davies' adaptation of Kingsley Amis' 20th century classic playing on BBC television. A BRG 4/4 Morgan plays a supporting role.
Addendum by David Spraggett
Your details regarding the Morgan in this BBC film are incorrect. The car is a BRG +4 4 seater (Chassis No. 3436, reg SLB 930) from 1956. I know because I own it!

---

Mike Bassett: England Manager
2001 Ricky Tomlinson. A series of mishaps forces the powers that be to choose a minor league soccer manager to lead the nation's team to the World Cup. The acting debut for the Aero 8.





---
NCIS
2003 US Television Series Mark Harmon, Michael Weatherly, Pauley Perrette, David McCallum
Leading the NCIS (Naval Criminal Investigative Service) team that operates outside of the military chain of command is Special Agent Jethro Gibbs, a highly skilled investigator and interrogator who is smart, tough and willing to bend the rules to get the job done. Working under Gibbs is Special Agent Anthony DiNozzo, a former homicide detective who joined NCIS just a few years ago but who has instincts that come only from working on the streets. Joining them are Agent Caitlin Todd, a tough former Secret Service agent who's gone head-to-head with Gibbs in the past, and forensics specialist Abby Sciuto, a gifted scientist whose dark wit matches her goth-style hair and clothes. Assisting the team is medical examiner Dr. Donald "Ducky" Mallard, who knows it all because he's seen it all (and drives Bruce Marshall's 1964 4/4 series V comp!).
---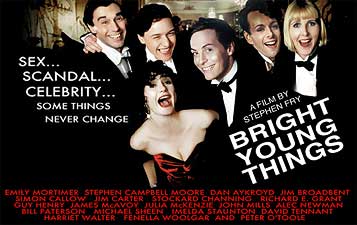 Bright Young Things
2003 A comedy-drama film directed by Stephen Fry,. making his directorial debut. Starring Emily Mortimer, Stephen Campbell Moore James McAvoy, Michael Sheen, David Tennant, Fenella Woolgar, Dan Aykroyd, Jim Broadbent, Simon Callow, Jim Carter, Stockard Channing, Richard E. Grant, Julia McKenzie and Sir John Mills (in his final film role).
It is an adaptation of Evelyn Waugh's satirical 1930 novel Vile Bodies.The central plot is a romance story, but the film provides social commentary on younger people in the 1930s, as well as society in general. The lead character, Adam, is played by Stephen Campbell Moore in his screen debut. A 1932 Morgan Super Sports Three Wheeler makes an appearance.
---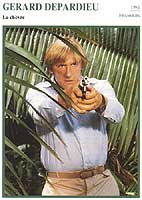 San Antonio
2004 Gerard Lanvin as San-Antonio, G?rard Depardieu as B?rurier
The first movie to feature an Aero 8.
Comedy. While a terrorist epidemic strikes world leaders, the commissaire San-Antonio and his partner, the lieutenant B?rurier, have to escort the French ambassador in a British hotel. But after B?rurier gets sidetracked into one more little sex affair.., San-Antonio witnesses the ambassador's abduction, organized by a gorgeous Italian girl. Back to Paris, San-Antonio is fired by his police chief, Achille Hachille. A real godsent for B?rurier, who gets promoted in his stead. But soon, the situation degenerates, when the president of the Republic mysteriously disappears. Immediate reaction from Police Minister : San-Antonio is the only one who can save the day. He has 48 hours and a secret squad to find the president. At the Elys?e, San-Antonio finds B?rurier, the official investigator. But now, it's every man for himself : who will be the first to find the President? There are multiple trails: terrorists, unscrupulous banks, international dealers, dishonest politicians, pretty woman with very convincing arguments...
---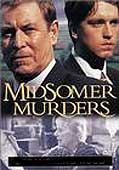 "The Fisher King" An Episode in the Midsomer Murders TV Series
January 2004 Starring John Nettles and John Hopkins. Thirty years ago, Roger Heldman, notorious in the locality as a womaniser, died one night at the site of an archeological dig on the ancient mound of Midsomer Barrow, on his land. Now his only legitimate child, Gareth Heldman, is killed by a violent blow from a Celtic spear that was taken from the mound's central chamber. Local antiquities author David Hartley-Reade, who is widely known to be an illegitimate son of Heldman's, asks his widow for permission to hold a midsummer ceremony on the mound, invoking the possibility of an inheritance claim on the land to persuade her. As the reasons for wanting to hold the ceremony start to be realised, he is shot in the back with an arrow in front of the large crowd gathered there. Barnaby and Scott's investigation stirs up a maze of twisted relationships, professional jealousies and lies festering within the picturesque village community, as they discover other illegitimate children of Heldman's.
In the beginning of the mystery, you can see a red Morgan Plus 8. numberplate FJ03PVF.
---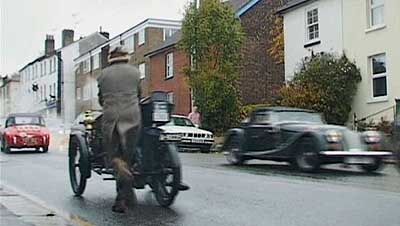 Massive Engines
2004 UK Television Series.
Also known as Chris Barrie's Massive Engines. A Morgan of '70s vintage.






---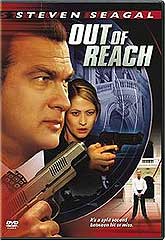 Out of Reach
2004 A direct-to-video action/adventure drama film starring Steven Seagal, directed by Po-Chih Leong and written by Trevor Miller and James Townsend. Steven Segal plays William Lancing, a former covert agent turned survivalist, tracking a human trafficking ring and trying to rescue his pen pal, Irena, a thirteen year old orphan from Poland who he has taught to use secret codes. When the letters suddenly stop coming, Lansing heads to Poland to figure out why. He discovers that the orphanage that she was staying in is a cover for a human trafficking network. With the codes, she keeps him updated on where she is taken until the rescue!






---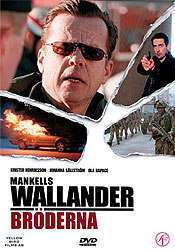 Wallander
2005 Swedish Television Series. Crime drama. Kurt Wallander is a fictional Swedish police inspector created by author Henning Mankell. The protagonist of many of Mankell's novels, he lives and works in the town of Ystad, outside the city of Malmö in the southern province of Skåne, Sweden. Wallander was born in approximately 1948, and has been divorced since his wife, Mona, left him. He has one daughter, Linda, who eventually joins the police force as well. He has few close friends and had a tempestuous relationship with his elderly father prior to his death. In the episode Bröderna, ("the Brothers) a Connaught Green Morgan 4/4 can be spotted.






---
Kill Ari 2
September 2005. Series Crime Drama. Director James Whitmore Jr. Starring Michael Weatherly (Special Agent Tony DiNozzo), Sean Murray (Special Agent Tim McGee) Mark Harmon (Special Agent Leroy Jethro Gibbs), David McCallum (Dr. Ducky Mallard), Pauley Perrette (Forensics Specialist

Abby Sciuto). Ari is at it again! He kidnaps Ducky to get Gibbs off the trail of his accomplice, who tries to help Ari get away. Gibbs decides to use the new Mossad Agent Ziva David to his advantage. She is Ari's control agent in the Mossad. Ari sends a decoy sniper to get Gibbs off of his trail. Gibbs catches on and sets up a trap for the terrorist. Fortunately for Gibbs, Ari shows up and admits to killing Kate just to cause Gibbs pain. He says Gibbs reminds him of his own father who didn't care about him except to make an agent out of him. He trains the gun on Gibbs, ready to shoot and suddenly a shot echoes from the top of Gibbs' basement stairs. Ziva is there, and has shot Ari. Ducky drives his own 1954 Morgan 4/4. He restored the car himself.
---
Marple: By the Pricking of My Thumbs 2006 Movie made for Television. Geraldine McEwan as Miss Jane Marple with a 1952 Morgan 4/4 Flat Rad. When Tommy and Tuppence visit an elderly aunt in her nursing home, Tuppence is concerned by the odd behavior of some staff and residents. So when Tuppence hears about Aunt Ada's sudden death and the disappearance of her friend Mrs Lancaster, she realizes her concerns were right. Tuppence meets Miss Marple and together they follow a path of clues that lead them to the Norfolk village of Farrell St Edmund, where they find a community guarding an array of secrets. Only by getting to the bottom of these secrets do they begin to unravel the truth about the mystery of Aunt Ada's death and Mrs Lancaster's disappearance.



---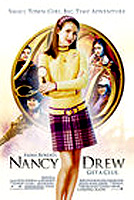 Nancy Drew
2007 Starring Emma Roberts, Josh Flitter, Max Thieriot, Rachael Leigh Cook and Tate Donovan.
The famous girl detective goes to Los Angeles California with her father, there on business. While she's there she happens upon a mystery that involves a murdered movie actress, and her mystery unknown daughter. Nancy finds out who her daughter is and she happily inherits all of her mother's wealth. At the end of the movie, returned back home, Ned and Nancy kiss their first actual kiss.! A beautiful red Californian Morgan makes a star appearance in the film.




---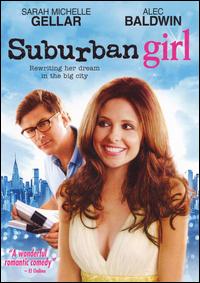 Suburban Girl
2007 Starring Sarah Michelle Gellar, Alec Baldwin
Brett, from the suburbs, is an associate editor at a small New York publishing hous. She meets a literary lion, Archie Knox, who's 50. Brett is soon dating Archie, then moves in with him. He's charming, attentive, and gives advice. He also has a history - ex-wives, a distant daughter, a couple of diseases, and a photo album of former girlfriends. However, he also has a blue Morgan Plus 8!





---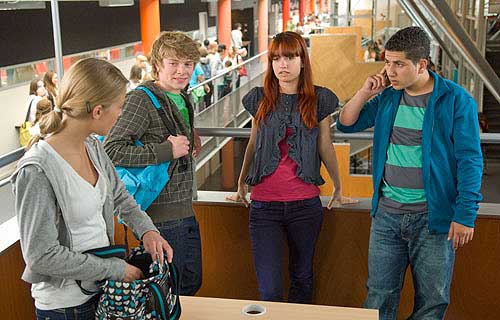 Radeloos
2008 Starring Marius Gottlieb and Marloes van der Wel. Directed by Dave Schram
Dutch film made for a teen audiences. One of the scenes takes place in the Morgan garage of Klaas Booji, a friend to all Moggers including this Webmaster! Many thanks to Bart Schenk for this contribution to the Movie collection.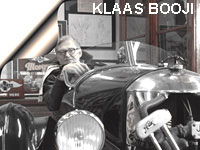 ---
Who is Clark Rockefeller?
2010 Starring Eric McCormack. A con man presents himself as Clark Rockefeller, a member of the famous Rockefeller Family. The movie is not especially good. However, there was a lovingly photographed view of a BRG/Cannaught Green late model trad Morgan, from the side view. As the car is being driven by Clark Rockefeller (played badly by Eric Macormack) the camera pans a side view from the front bumper, passing rearward over the grill, cowel, bonnet and then side door and cockpit. It is LHD, w/o side curtains, and the car appears to be in brilliant condition. It appears about 80% through the movie. (Contributed by Audrey Morris and Art Greenberg). The picture below is of Tom Van Zuiden, the former editor of Toronto's MSCCC's Blurb, the Club's newsletter.
---

Edoardo Leo and Marco Bonini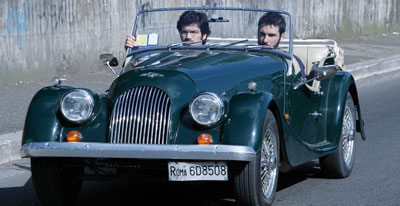 18 anni dopo (18 Years Later)
2010 Starring Edoardo Leo and Marco Bonini. To dispose of their father's ashes, two estranged brothers are forced to travel across Italy together in a Morgan 4-seater. The brothers haven't spoken since their mother died years ago. Sophisticated Mirko has been working in London as a successful merchant banker while Genziano has been helping with the family business. When their father dies, the two brothers discover his last wish is to have his ashes laid to rest in a small cemetery in Calabria. The only catch is that the two brothers must make the journey together in the family's vintage car. found by Steve Stierman
---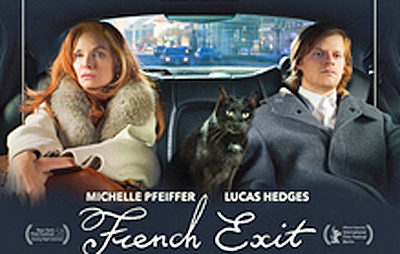 French Exit
2020 This one was spotted by the keen eyes of Morgan owner John McNulty and features a model Morgan! It stars Michelle Pfeiffer, Lucas Hedges and directed by Azazel Jacoob and based on the novel of the same name by Patrick deWitt, who also wrote the screenplay. It tells the story of a Manhattan heiress (Michelle Pfeiffer) who moves to Paris with her son with the little money they have left. Pfeiffer's performance was praised and she was nominated for the Golden Globe Award for Best Actress.
---

If you know of more Morgan Movies send them in.