1955 PLUS 4 CLUTCH AND BELLHOUSING
1. BELLHOUSING REBUILT WITH SLEEVE
2 SLIDING COLLAR C/W T/O CARBON
3 T/O CARBON
4 PRESSURE PLATE
5 CLUTCH DISC
6 INPUT SHAFT C/W MUFF COUPLING
7 MUFF COULPING
8 GREASE FITTING
9 CLUTCH LINKAGE KIT
10 EYEBOLT
11 ADJUSTMENT ROD & ENDS
12 LINKS TO PEDAL
13 LEVER WITH 4 HOLES
14 CLUTCH RETURN SPRING
15 CLEVIS PIN SHORT
16 CLEVIS PIN LONG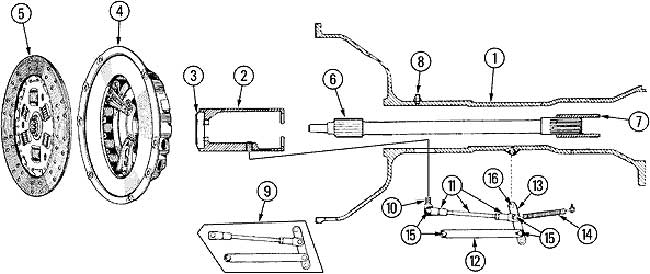 UPGRADING THE EARLY PLUS 4 CLUTCH
by Mike Miles at the eMog Pub
A note on the original block and bellhousing for those that haven't delved into it yet - my car had about 15 owners over a 20 year period and was far less than cared for through a lot of it. There probably was
not a lot of regular lubrication of the sliding block. The sliding block grease fitting is like the rear axle grease fittings, ya gotta know they're there, otherwise you may never find them.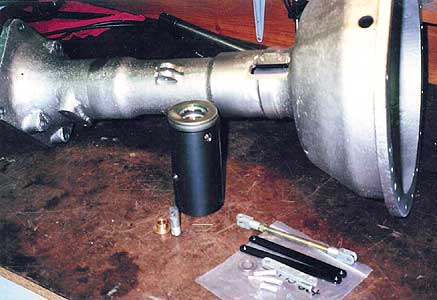 I strongly urge TR powered +4 owners that don't know the condition of these parts on their car to check into it. The results can be dramatic.
Also check that block pin to make sure its straight. They can bend and if they ever break then you're likely heading for a full teardown (hence the grade 8 bolt conversion). One of our club members spent several hours on his back in the parking lot of a hotel trying to undo a pin that broke in the threads - to no avail. Ok, no more doom and gloom.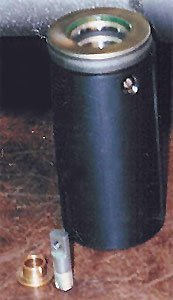 My original aluminum sliding block was actually still very true and not worn (except the face where the carbon was - "what's that noise?") but the bellhousing was badly worn. The housing wear was about .060" (1.5 mm) upward at the front and an equal amount downward at the back. Not to mention the severe side wear of the pin in the slot. We had a new sliding block machined to accept a GM (Federal Mogul) throw-out bearing instead.
We also had my bellhousing sleeved with stainless steel, then added a wear shoulder (similar to Fred Sissons solution) on the slot. The sleeving is pretty straightforward as long as you use a shop with a very large lathe or go to an axle shop. The setup can be very easy with a clever machinist.
We also fabricated a new stud from a grade 8 bolt (probably lost some strength but I don't think Ron Theroux will be too upset - still stronger than the original machined part) ;-) We actually took it one step further by putting a bronze bushing around the stud from the sliding block but that is purely elective surgery. Even without that I'm sure it will outlast me.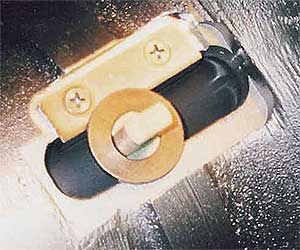 The throw-out bearing used was Federal Mogul (BCA) #CC1705C which was a generic Chevrolet item. Sorry that I don't have a NAPA number.
The first photo shows each of the block parts on the bench before assembly. The material used for the sliding block was Delrin (generic name is acetal). I was actually considering Rulon but that would have been a $600 piece of material. The threads are reinforced with a Heli-coil insert.
Choose Delrin for high durability and since it is sliding on a finely polished SST sleeve, not likely to ever wear signifigantly. Greased when inserted and the grease fitting is still on the housing but no grooves cut on the block - highly unlikely to ever need it.
Also considered UHMW-PE but its a little less temperature resistant.