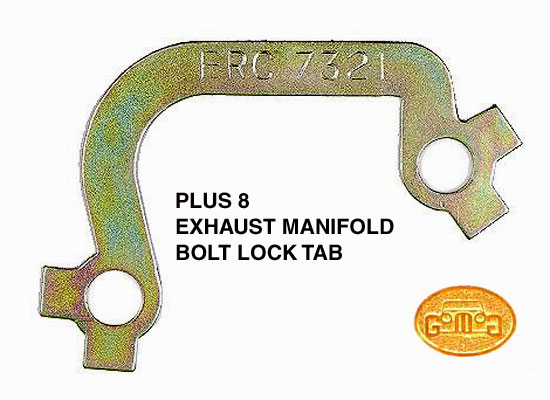 WATCHPOINT: Morgan/Rover exhaust systems have a scary element about them. They have to use steel bolts or studs into aluminium heads. Steel and aluminum together can cause problems as the steel can have lunch on ally threads if you over tighten. As well, over tim, the two fuse and you can wake up one fine morning and find you have de-threaded your heads when you remove a bolt. Yet, they can often loosen. Loctite will not do the job because of the great heat in that area makes it a poor option.

I use lock tabs made for the engine. It makes the manifold installation I bit more fiddly, but they allow you to use the bolts at the correct torque 14lbsft with the assurance that the bolts will still not fall off.

I find the stock lock tabs (above) rust and look unsightly. You can have them powder coated or find them in stainless steel.