1996 (HOTWIRE) PLUS 8: CONVERGER LE RESERVOIR DE FREIN À UNE PLACEMENT À DISTANCE
par Lorne Goldman

ENGLISH TRANSLATION

Rappelez-vous, lorsqu'une personne de Morgan appelle l'Angleterre d'un autre pays, il est generalement en train de demander un conseil pour une voiture de gauche d'un expert de voiture de droite.
J'ai eu un de mes + 8s converti de simples à deux systèmes d'échappement. Au courant des derniers vingt ans, j'ai supervisé plus de 200-300 de ces conversions pour toutes les sub-types de +8 et j'ai même effectué deux conversations tout seul moi-meme! (avec un 1996 aussi)
Contexte

: De 1976 à 1986, + 8 étaient adaptés à un système d'échappement double sur mesure conçu et fabriqué par Morgan. Bien que tous les composants, à l'exception des collecteurs de dérivation sur mesure Morgan, étaient ... er ....
merde
, ces collecteurs sont devenus le cœur du célèbre système de performance +8. L'ancien marché de post-vente de Morgan ont échangé les silencieux stock pour ceux utilisés sur le +4 SS, modifé pour Morgan par le champion de LeMans, Christopher Lawrence. Un résultat merveilleux ... un son puissant et 10 à 10% bhp de plus.
Bien sûr, il y a peu de modifications nécessaires et ils varient en fonction le subtype et si la voiture est LHD ou RHD. Les concessionnaires, selon le pays, ne savent pas toujours tout ce qui est nécessaire. La plupart des concessionnaires Morgan sont deux embarrassés, occupés ou arrogant à parler à d'autres concessionnaires. Il n'y a pas de consensus, pas de méthode standard, et la plupart des concessionnaires oublient de faire ou de mentionner tous les éléments importants.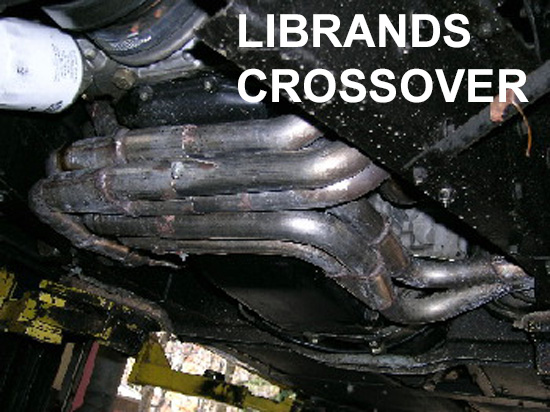 Pour le faire correctement; je donne à la concessionnaire une liste de ce qu'il faut faire ... et cette liste varie selon le sous-type +8.
1. N'achetez pas les Librands affichés here. Il a été conçu pour GEMS, pas votre sous-type. (Hotwire) Cela coûte beaucoup plus, il est très complexe à installer et nécessite de nombreuses modifications que vous ne voulez PAS faire.
2. Vous voulez que leur système ressemble le plus au système +8 simple et éprouvé.
3. Vous devrez acheter des tuyaux de Morgan lambda (un tuyaux pour chaque coté fabriqués avec une provision pour vos capteurs d'oxygène) et suffisamment courts pour s'adapter aux convertisseurs catalytiques. Librands vendent probablement ces, et sinon, je peux vous aider trouver qui les vend dans le marché secondaire de Morgan.
4. Si vous et votre installateur êtes prudent, vous allez passer à un réservoir à distance pour le fluid votre système de freinage. Une fois le nouveau système installé, le réservoir original de liquide de freins en plastique sera trop proche de vos collecteurs. Ils peuvent chauffer le fluide ou même fondre le plastique avec des résultats désastreux. Si vous avez besoin de détails et de sources, je peux les fournir.
5. Encore une fois, si vous et votre installateur êtes prudent, vous ferez des dispositions pour changer ou protéger votre réservoir de nettoyeur de pare-brise de l'autre côté du moteur. Sans une protection suffisante, il fondra. Dans mon cas, je passe au réservoir
Morgan, plus ancien, utilisé avec Higgins +8 année modèle. Ou, nombreux concessionnaires enveloppent l'isolation thermique autour du réservoir. Très laid.Si vous avez besoin de détails et de sources ... Je peux les fournir.
6. Enfin, voici un élément dont les concessionnaires ne savent pas ou vous racontent rarement. Les Hotwire +8 ont un problème mineur. Land Rover est passé à GEMS en 1995. Mais Morgan n'a pas changé leurs +8 jusqu'a 2000. Pour assurer la conformité réglementaire aux émissions, Land Rover a fait son mélange de carburant de plus en plus maigre au fil du temps. Par l'année 1996, le mélange il était trop maigre. Les voitures surchauffent et perform faiblement. ET, si vous installez un système d'échappement double à meilleure respiration, cela aggrave cet situation.
Vous devez ajuster le mélange pour qu'il fonctionne plus fiable, plus frais et plus puissant. Vous pouvez le faire avec une carte de combustible plus intelligente. Celui que vous voulez s'appelle "Optimax" et il est fabriqué par un gourou, Mark Adams. Je suis sûr que Garage Albert peut vous procurer la puce et l'installer ... (facile). S'ils suggèrent le "Tornado", vous n'en avez pas besoin. Un Tornado est également fabriqué par le même gars, mais il est fait pour 4.6s ou des moteurs fabriqués pour la course.
Si vous obtenez un moteur de course +8, je (ou n'importe qui) peut vous obtenir un crédit complet pour l'Optimax si vous l'échangez pour un Tornado.
Curieusement, vous constaterez normalement que vous obtenez un meilleur kilométrage et réduisez les émissions avec l'Optimax que vous ne le faites maintenant!
Il y a aussi une question de qualité. Les systèmes d'échappement en acier inoxydable de mauvaise qualité sont vendus au même prix que ceux de la meilleure qualité. La différence est la première vont brisé et le second type ne le feront pas. Les composants de Librands sont de première classe. La plupart des autres ne le sont pas.
Vous devriez également tenir compte conseils d'échappement. Vos tuyaux viendront sans ses pieces. Et je peux vous suggérer une
meilleure façon d'attacher vos tuyaux en arrière.
1996 (HOTWIRE) PLUS 8: CONVERTING THE BRAKE FLUID RESERVOIR TO A REMOTE PLACEMENT
by Lorne Goldman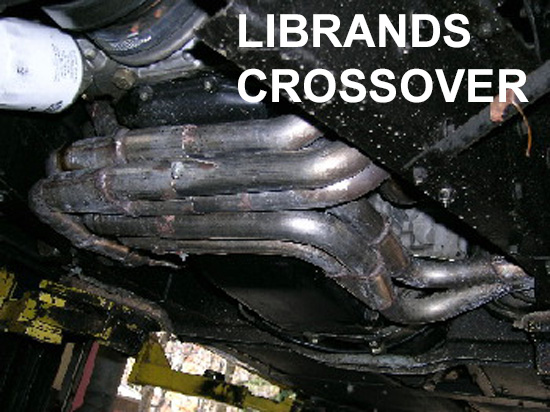 Firstly, please remember, when a Morgan person calls England from another country, he is usually asking for advice for a left hand car from a right hand car expert. In most instances, that won't matter, but sometimes it is a factor. A lot of intuition comes from a knowledge of the landscape. and instinctive habit. Some of that has to be tossed when you switch from one side to the other. Trust me, I have had LHD and RHD Plus 8s. Over the last 20 years, I have supervised over 200-300 of these conversions for all +8 subtypes and I even done two conversations myself! (puffed chest!)



BACKGROUND

: From 1976 to 1986, +8 were adapted to a custom designed dual exhaust system designed and manufactured by Morgan. Although all of the components, except Morgan's custom-built diversion manifolds, were ... er .... shit, these collectors became the heart of the
famous +8 performance system. Morgan's former aftermarket has traded stock mufflers for those used on the +4 SS, modified for Morgan by LeMans champion Christopher Lawrence. A wonderful result ... a powerful sound and 10-15% more bhp.

Of course, there are few modifications needed and they vary depending on the +8 subtype and whether the car is LHD or RHD. Dealers, depending on the country, do not always know all that is necessary. And I have found that many Morgan dealers are too shy, busy or arrogant to talk to other dealers. There is no consensus on this subject, no standard method, and dealers can forget to make or mention all the important elements.

To do it correctly; I give the dealer a list of what to do ... and this list varies according to subtype +8. For a 1996 Plus 8;

1. Do not buy the Librands crossover system displayed here. It was designed for GEMS, not this subtype. (Hotwire) It costs a lot more, it is very complex to install and requires many modifications that you DO NOT want to do.

2. You want their system to look more like the simple and proven +8 system. It is very well-done and Librands is a dealer that made its reputation on quality. They supply other dealers..

3. You will need to purchase Morgan lambda pipes (one pipe for each side manufactured with a threaded fitting for your oxygen sensors) and short enough to accommodate the catalytic converters. Librands probably sell these, and if not, I can help you find out who sells them in Morgan's secondary market. webmaster@gomog.com At worst, I have purchased the twin (down) pipes and had a bung welded on and drilled them for the the sensors.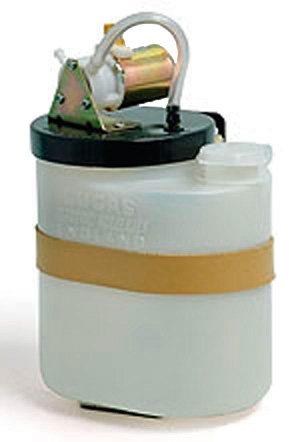 4. If you and your installer are prudent, you will switch to a remote tank for your brake fluid as, once the new system is installed, the original plastic brake fluid reservoir will be too close to your manifolds. They manifolds can heat the fluid or even melt the plastic with disastrous results. If you need details and sources, I can provide them. It is really quite simple. I used a Aero Series I fluid resevoir, but there are plenty out there in the aftermarket. You will need two adapter plugs which fit into your master cylinder and to which you can attach the hoses.

5. Again, if you and your installer are prudentl, you will make arrangements to change or protect your windscreen cleaner reservoir. Without sufficient protection, it will melt. In my case, I switched to the older Morgan washer fluid reservoir, made by Lucas, used in the 1980s. It is a bit smaller and oval. Or finally, many dealers wrap thermal insulation around the tank.

Very ugly.

If you need details and sources for any part... I can provide them.

6. Finally, here is something that dealers do not know or rarely tell you. Hotwire +8 have a minor problem. Land Rover moved to GEMS in 1995. But Morgan did not change their +8 until 2000. To ensure regulatory compliance to emissions, Land Rover kept making its fuel mixture leaner over time. By the year 1996, the mixture was too lean. The cars overheat and perform poorly. With the heavy LRs, with their heavy load, the blocks cracked and the liners slipped. AND, if you install a dual exhaust system with better breathing, this aggravates the situation. :(

So you must adjust the mixture to make the car more reliable, cooler and more powerful. You can do this with a smarter fuel map..more suited to your car than a Land Rover truck.. The one you want is called "Optimax" and it is made by a guru, Mark Adams. Your garage fellow can install it ... (easy). If they suggest the "Tornado",

you do not need i

t. A Tornado is also manufactured by the same guy, but it is made for 4.6s or engines made for racing. If you later get a +8 racing engine, I (or anyone) can get you a full credit for the Optimax if you trade it for a Tornado. Curiously, you will normally find that you get better mileage and reduce emissions with the Optimax than you you are experiencing now!


There is also a question of quality.

Stainless steel exhaust systems of poor quality are sold at the same price as those of the best quality.

The difference is the first will crack and the second type will not.

The components of Librands are first class.

Some of the others are not. When in doubt..ask.

I have no connection with any supplier.



You should also consider the exhaust tips.

Your pipes will come without these pieces.

And I can suggest a better way to attach your rear pipes. No more sounds of your pipes banging against the car as the rubber doughnuts wear.